September 26, 2007
Shadow of the Giant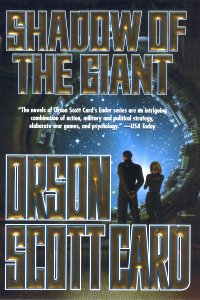 Shadow of the Giant is the final installment of Bean's story, covering the final world unification by Peter Wiggin as Bean nears the end of his life. It reads as the direct continuation of the previous book, Shadow Puppets, and is a little more rewarding and easier to follow if you read the two together.
Although I really enjoyed the entire Shadow series, I didn't feel as excited or interested in this specific novel. There is a lot of stuff going on, with Bean and Petra searching for their babies and Peter attempting to unite the world against Hot Soup, Virlomi, and Alai's plans for world domination. But there isn't a lot of depth. Reading it, I felt like many things were glossed over a bit too much. I think there are whole portions of the plot that could have been a novel on their own, but instead the actions and results are treated like anecdotes. That's not exactly wrong, considering this is supposed to focus on Bean's life, but even then Bean's role isn't in the forefront.
Perhaps Card is trying a little too hard to avoid the emotional and intellectual meaning that he put into the sequels to Ender's Game. Those novels were very different in flavor, compared to Ender's Game, and aren't as popular as a result. However Shadow of the Giant lacks the special ingredient that is needed in a book that is supposed to be closer to hard science-fiction: a new idea. Shadow of the Giant seems more like a clean-up effort than something that is supposed to be a great work of fiction. It's unfortunate, because I did really enjoy the earlier Shadow books.
Posted by josuah at September 26, 2007 7:33 PM UTC+00:00
Trackback Pings
TrackBack URL for this entry:
http://www.wesman.net/cgi-bin/mt/mt-tb.cgi/1318