June 30, 2008
LAFF 2008 + Electric Daisy
This year Netflix's film festival-related party was in Los Angeles as part of the LA Film Festival. Luna and I drove down and stayed in a hotel near the beach. We spent some time exploring there, and ate at a theme seafood restaurant (not super great). But probably the most memorable part of exploring was this pet store we found near the hotel that had some kittens and cats for adoption. Of course Luna wanted to bring them home, but we can't take care of any more cats than we already have.
Netflix's party was co-hosted by FOX again, in some expensive house up in the hills. I guess someone actually lives there, but it was available for rent. It has a really great view of Los Angeles, and there was a swimming pool and it was fairly large in comparison to the types of houses that you might find in the area. Luna mostly ate some food, and met Reed for the first time. I danced a little bit but not much. We didn't stay too late.
Since we had gone down to Los Angeles before, this time we went to Universal Studios instead of Disneyland. The park was much more movie-oriented of course, and more shows than rides. So I didn't find it as much fun but there were certainly a lot of interesting things to see. We did the ride that goes through the park and stage sets. There was a Mummy ride in promotion with the new Mummy movie. We had a good time for the most part.
At night I went with Greg Orzell to Electric Daisy. That was definitely the most exciting part of my trip. Luna isn't into that sort of music or dancing so she didn't go. It took us a long time to get inside, but it was really great. Tons of people, but not too many so you didn't have room to dance since it was outdoors at a stadium. Although it was too many if you wanted to try and get in and out of the stadium. I wasn't really dressed the part. I should have worn shorts and a T-shirt instead of slacks and a clubbing shirt. A lot of people were wearing a lot less clothing.
The best set was definitely by BT. His music is upbeat enough to keep the body moving, but intricate and beautiful at the same time instead of just being a bunch of drum 'n bass, jungle, or house. Paul Oakenfold was also there, but I thought his set was just okay. I also remember Paul Van Dyk's set, because he was last and probably the most heavily promoted of the artists. He included a strong laser light show, and it was probably good to place him last because his music is more trance and ambient so it slowed things down a bit. But that also meant it wasn't really the most exciting music to listen to in this party environment.
There was one scary incident during the carnival, when a girl collapsed. I ran to find the local paramedics, but by the time I actually found them someone had already called it in. I'm not sure what ended up happening to her, but I think she was okay when they found her.
Overall a really fun time. I danced pretty much non-stop for around four hours. Massive leg cramps but I danced through those too. :)
Posted by josuah at 6:56 AM UTC+00:00 | Comments (0) | TrackBack
June 18, 2008
Gunsmith Cats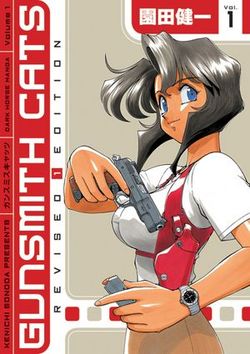 Gunsmith Cats is a really fun read full of excitement and great characters. They're not really deep characters, but they've got a lot of personality and the interaction and relationships between them is excellent. This extends to the bad guys in the story as well.
I've blown through the original manga series, and started the sequel Gunsmith Cats Burst. Unfortunately the last volume of Burst isn't published in the U.S. yet, and so I'm left of a bit of a cliff-hanger. I'm really looking forward to the release of the last Burst volume.
I would guess the most distinctive feature of this manga is the attention to detail when it comes to firearms. Apparently Kenichi Sonada is a big gun fan, and so he does a lot of research into them and that carries over directly into the manga. Plus, he is very careful in his drawing and consistency, which I always appreciate since it gives a manga real polish. It's much more pleasant to read something that is fully consistent and view panels where you can see what is going on (even during heavy action) and flow together. A lot of mangaka fail at this, even the popular ones.
But what really keeps me going and not wanting to put down the book are the characters and plot. The story is long-running and fully fleshed out, and I can read these stories again and again and still enjoy them just as much as the first time. I'd have to say Gunsmith Cats is one of my favorite mangas.
Posted by josuah at 8:23 AM UTC+00:00 | Comments (0) | TrackBack