June 28, 2010
Asian Tour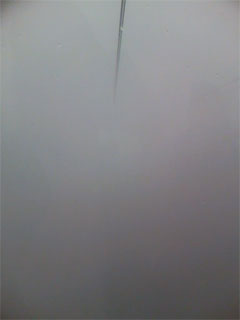 I recently went on something of a whirlwind business trip through three countries as part of a project we've been working on at Netflix for a short time now. My trip started off in Hong Kong, then Shenzhen, China, followed by Seoul, Korea and finally Osaka and Tokyo in Japan. It had been almost ten years since I was last in Hong Kong, and it was my first time visiting Japan. I was in Korea last year for business but not in Seoul that time.
Things were pretty hectic in the beginning. We had one day in Hong Kong to acclimate to the time change, but Shenzhen and Seoul were completely filled each day with meetings and travel so there wasn't any free time at all. Mitch and I extended our stay in Tokyo, Japan a little extra though, so we could do some things that we wanted to. I was especially excited about Tokyo because I've wanted to visit Akihabara and Shibuya for a very long time.
In Hong Kong, we went to Lantau Island via the Ngong Ping Cable Car to see the Tian Tan Buddha tourist attraction. I say tourist attraction because when I was there ten years ago the site wasn't so commercialized. The clouds were very low that day, which meant our cable car went right through some dense fog, and walking around at the peak meant walking around through clouds.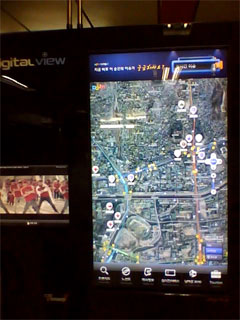 Crossing from Hong Kong into Shenzhen meant going through the China border inspections. It wasn't a big deal, but it is like crossing between countries. (Returning into Hong Kong took much longer.) Shenzhen is pretty much what I expected with small towns, usually containing an obvious main street, based around industrial areas. The factories are what brings workers into Shenzhen and keeps money flowing into that area.
Both Hong Kong and Shenzhen were very hot and humid. My body is not at all accustomed to that sort of environment so I was constantly sweating. I think one day the humidity was listed as 90%, and the temperature was always above 30°C.
After China we flew into Seoul, Korea. I like visiting Korea because I have a friend there that works at Samsung. His English is quite good and we get along well. It happened to be his daughter's 100-day celebration when we were there, and he gave me a cute little rice cake treat. I was also hoping to meet up with someone in Seoul whom I just recently met at Can Jam 2010 when I was exhibiting, but a schedule conflict prevented us from doing so.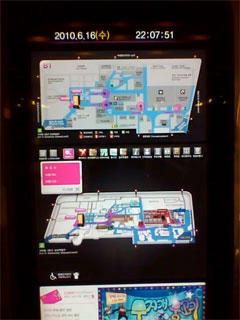 One thing that I really liked in Seoul were the interactive maps. Both the subway and shopping mall had an interactive map. Using the touchscreen, you could select where you wanted to go, or search for where you wanted to go, and it would provide detailed animated directions on the map itself for how to get there. This is so much better than the static maps used here in the United States. Although I suspect there would be some hesitation of installing expensive maps in U.S. subway systems out of fear of graffiti or vandalism. People, and police officers, appear to be so much nicer, polite, and courteous in Korea than in the U.S. (Obviously this is even more true in Japan, where manners are extremely important.)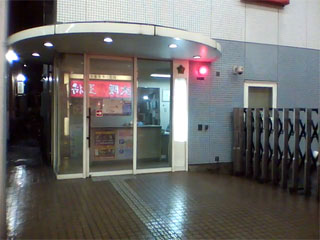 After Korea, we flew into Osaka, Japan for our last business engagement. This is where it first hit me how expensive things are in Japan. I'd heard and read about things being expensive there, but a fruit plate in the hotel restaurant was more than USD $40, and I found out the waitresses at that restaurant were probably only making about USD $10/hr. I thought at least food should be about the same price as in big U.S. cities if the pay scale is about the same, but since it is more expensive and going out to dinners and drinks are such a big part of Japanese culture people must spend a significant portion of their income on food. The pre-packaged meals at 7-11 are priced around what I usually spend if I'm eating out to lunch at home.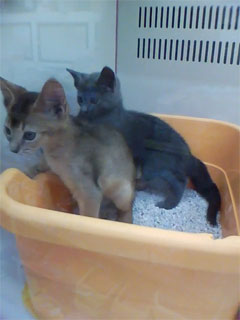 Also really expensive are pets. We stopped in a pet store in Osaka, and kittens and puppies are regularly priced over USD $1000 and often close to USD $1500. Some of them were even around USD $3000-$4000. The pet stores were pretty small, and probably had about a dozen or so of kittens and puppies. There was one store that also had some monkeys. No prices were listed on the monkeys; I imagine they might be considered a luxury where if you have to ask, you can't afford it.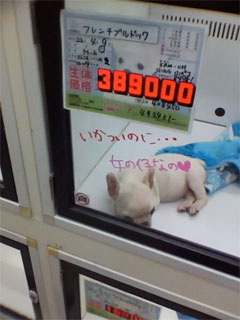 One thing I noticed though was that all the kittens and puppies were very young. It's a lot easier to sell cute kittens and puppies, and I saw a bunch of girls watching and saying kawaii a lot, but it also makes me wonder what happens to the ones not adopted. If they only keep young ones in the store, the others might be discarded. T_T
After Osaka we went to Tokyo. For a few hours one day Mitch and I took the train to Hakone and went to the Kappa Tengoku onsen. It took about two hours each way by train, and we spent about two hours at the onsen itself. The soaking pool water was very hot. So hot that I immediately started sweating like crazy and my body began tingling all over. I had to get out and shower in cold water once, and also sit mostly out of the pool, in order to cool down. I also got over a dozen bug bites right away. Most of them got bigger and only just started disappearing a couple days ago.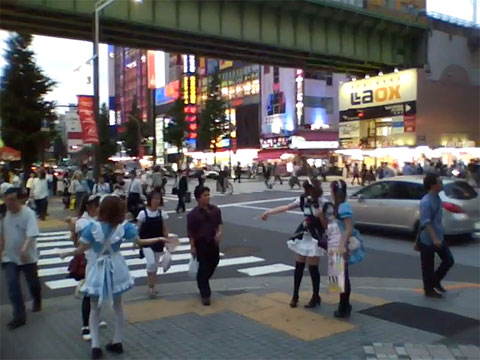 But by far I spent the most time in Akihabara and Shibuya. Akihabara was very exciting for me because of all the shops and the culture. Maid cafés have gotten very popular and there were dozens of maids on the streets handing out flyers and trying to convince customers to enter their shops. We didn't end up going into a maid café though. Which was fine by me since I was spending all my time shopping anyway. Although I would have liked to go to one. As well as check out some of the other crazy theme restaurants; I'm not sure where they are though since they're not in Akihabara. I didn't get a chance to check out a love hotel or capsule hotel either.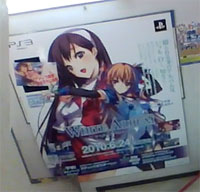 There are a bunch of otaku-stores in Akihabara, unsurprisingly. The stores tend to be thin and tall. Only the stores that sell electronics or are like department stores have enough floor space that things don't seem cramped. There was tons of manga, anime, movies and TV shows, figures, video games, and pink stuff. Although when it came to figures and trinkets only the most recent stuff was getting shelf space. I can't read Japanese so manga and anime was pretty much out. Plus, music and videos are super expensive over there. A new release movie on DVD or Blu-ray might be over USD $50. PC and console games are only slightly more expensive than in the U.S. And there is a ton more selection. I picked up a few video games that are only available in Japan including Atelier Rorona, Record of Agarest War, and Agarest Senki Zero; I need to learn how to read Japanese before I can play them though. I would have also gotten Atelier Totori but it was releasing a couple of days after our return flight.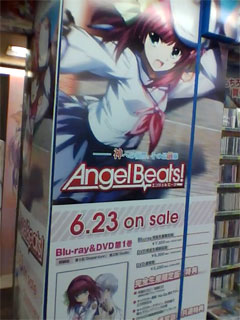 I only picked up a couple of music CDs, because at those prices I couldn't just grab stuff that might be good. I did find a Final Fantasy XIII collectors music set though which I immediately purchased. (Have yet to buy the game though.) Mostly I bought figures to add to my collection: I got some Mari Makinami figures from the new Evangelion 2.0 rebuild; Nagi and Tsugumi from Crazy Shrine Maidens; Ein from Phantom, a couple of Vocaloid Hatsune Miku wind-up music toys; a distorted Rei; and Chocobo and Moogle plushies.
The other thing I spent a lot of money on is clothing. I really like Japanese casual street fashion. The sort of interesting stuff you can't find in the U.S. and gets featured in some video games. Most recently in The World Ends With You, a Nintendo DS game that deals heavily with fashion and takes place in Shibuya, although the store names were changed. (The game itself gets a bit repetitive and collecting all the items would take several play-throughs.) To find the better stuff, I ended up shopping mostly at Jeans Mate in Akihabara and Parco in Shibuya. Individual stores in Parco are relatively small and devoted to a single brand, the clothing selection is limited, and there is usually only a handful of specific styles per brand. Prices at Jeans Mate and some of the stores at Parco tended to start at around USD $30 for a T-shirt. But some of the really high-end stores in Parco sold a single T-shirt for USD $300. Some of the stores had more complex clothing, like jackets, that sold for USD $1000. This despite being something that could be made for a few dollars in material and labor. I limited myself to things that were priced at the lower end, but even then I think I spent more on clothing this one time than I've spent on clothing my entire life so far.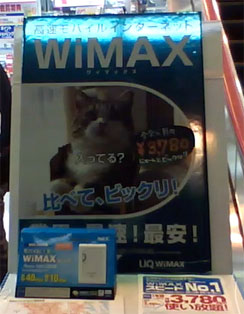 There were two things that made it more difficult to buy clothing in Japan. First was the extreme leaning towards girls' clothing. There are entire mall buildings that only contain girl clothes. I would say only about 10% of the stores sold boys' clothing. The two types of stores were also physically segregated in many cases. Only the larger non-boutique stores carried both male and female clothing.
Secondly, the clothes in Japan aren't sized for me. I had to purchase size XL / LL or size 4 (for shirts) and even then it is a tight fit. My shoes are 2cm larger than the largest they stock in shoes and socks. On many occasions I simply couldn't buy the clothes because they didn't sell it in my size. I guess there are a couple of stores that do sell larger clothing, but you have to go find them specially.
I think I could have spent a whole lot more money in Tokyo, both on toys and clothes. And there are still a lot of other things to do and see just in Tokyo itself, never mind the rest of Japan. I'm not much into sight-seeing, but I can imagine myself spending weeks more exploring just Tokyo.
Posted by josuah at 3:37 AM UTC+00:00 | Comments (0) | TrackBack
June 30, 2008
LAFF 2008 + Electric Daisy
This year Netflix's film festival-related party was in Los Angeles as part of the LA Film Festival. Luna and I drove down and stayed in a hotel near the beach. We spent some time exploring there, and ate at a theme seafood restaurant (not super great). But probably the most memorable part of exploring was this pet store we found near the hotel that had some kittens and cats for adoption. Of course Luna wanted to bring them home, but we can't take care of any more cats than we already have.
Netflix's party was co-hosted by FOX again, in some expensive house up in the hills. I guess someone actually lives there, but it was available for rent. It has a really great view of Los Angeles, and there was a swimming pool and it was fairly large in comparison to the types of houses that you might find in the area. Luna mostly ate some food, and met Reed for the first time. I danced a little bit but not much. We didn't stay too late.
Since we had gone down to Los Angeles before, this time we went to Universal Studios instead of Disneyland. The park was much more movie-oriented of course, and more shows than rides. So I didn't find it as much fun but there were certainly a lot of interesting things to see. We did the ride that goes through the park and stage sets. There was a Mummy ride in promotion with the new Mummy movie. We had a good time for the most part.
At night I went with Greg Orzell to Electric Daisy. That was definitely the most exciting part of my trip. Luna isn't into that sort of music or dancing so she didn't go. It took us a long time to get inside, but it was really great. Tons of people, but not too many so you didn't have room to dance since it was outdoors at a stadium. Although it was too many if you wanted to try and get in and out of the stadium. I wasn't really dressed the part. I should have worn shorts and a T-shirt instead of slacks and a clubbing shirt. A lot of people were wearing a lot less clothing.
The best set was definitely by BT. His music is upbeat enough to keep the body moving, but intricate and beautiful at the same time instead of just being a bunch of drum 'n bass, jungle, or house. Paul Oakenfold was also there, but I thought his set was just okay. I also remember Paul Van Dyk's set, because he was last and probably the most heavily promoted of the artists. He included a strong laser light show, and it was probably good to place him last because his music is more trance and ambient so it slowed things down a bit. But that also meant it wasn't really the most exciting music to listen to in this party environment.
There was one scary incident during the carnival, when a girl collapsed. I ran to find the local paramedics, but by the time I actually found them someone had already called it in. I'm not sure what ended up happening to her, but I think she was okay when they found her.
Overall a really fun time. I danced pretty much non-stop for around four hours. Massive leg cramps but I danced through those too. :)
Posted by josuah at 6:56 AM UTC+00:00 | Comments (0) | TrackBack
January 27, 2007
Back from Disneyland
Luna and I just returned from a two-night trip to Disneyland. We drove down on Wednesday, spent all of Thursday in the park, and then drove back today. It's about a five or six hour drive, which isn't horrible but it isn't great either. Since Luna can't drive, she spent a lot of the drive sleeping. Traffic in some parts of the Los Angeles area is pretty bad as well.
We stayed at a motel called the Parkside Inn & Suites, which is located very near Downtown Disneyland. The location is very convenient, and we could walk to the Downtown area and to the park, but the quality of the rooms is somewhat low. The floors were stained and dirty, there was no TV remote, and the old refrigerator was actually off and we didn't realize it. The first morning we found a grasshopper walking around. However the bathroom area looked very clean and well kept. There was a strange hole in the ceiling near the beds that we couldn't figure out though.
The first night we had dinner with Alan and his girlfriend Gen at a New Orleans style restaurant in Downtown Disneyland. I hadn't seen Alan since leaving North Carolina, and it was cool to catch up. He works for Disney now as a developer for their web site. Since he works for Disney, he could give me and Luna two free park tickets which was really nice.
We woke up early the next day and got to the park entrance around 9:15am. But it turns out the park doesn't open until 10am. I don't know if that is just because of the season, or if that's the year-round time that the park opens. People who stayed at one of the Disneyland hotels could enter at 9am though. It was warmer than Luna and I expected though even at 10am, and we should have worn lighter clothing. Instead we ended up tying our jackets around our waists the whole time.
There weren't a whole lot of people, but the park was still very active. A few rides were closed down for whatever reason, but they tended to be rides Luna didn't want to go on anyway. She found the more "violent" rides, like Indiana Jones or Star Tours, scary so we didn't go on many of those. She liked the more calm storybook rides like Pirates of the Carribean or Winnie the Pooh. Actually, she found a lot of the park somewhat boring, but we did end up going on just about all the rides. We did have a good time and it was fun though. I was hoping they'd be selling the large turkey drumsticks but they weren't, and of course all the food and drinks in the park were expensive.
Posted by josuah at 12:07 AM UTC+00:00 | Comments (0) | TrackBack
January 10, 2006
Shanghai is Cold
Over the new year, I visited Shanghai which was my first time in China (excluding Hong Kong). I stayed at my dad's place because he has an apartment/office there, and went because I wanted to visit Luna. Shanghai is a lot like New York City, only more so in the ways I don't like New York City. It is even more crowded, dirtier, and noisier. Buses were frequently packed way past capacity, and no one obeys simple traffic rules like driving in one lane or not running red lights. So it is also pretty dangerous because you can be easily hit by a motorist and people can steal easily on the buses.
Despite that, the city planners have done a good job in many ways. There are separate lanes for bicycles and motorcyles in many areas, and raised or subterranean walkways for crossing busy streets. You can also find completely underground strip malls. And the traffic cops are doing their best to enforce good and safe pedestrian and motorist behavior in many places.
The biggest problem for me was the extreme cold. Temperatures hovered very close to 0°C or only a few degrees higher for the majority of my stay. I ended up getting sick on Wednesday or Thursday because it was raining heavily at freezing temperatures with strong winds and I got very wet while walking around. Plus, my dad doesn't like to use the heater so even on the 23rd floor when it is so cold outside, he had the bathroom window open and the heater set to 18°C or 20°C in the main room. So I would be really cold when there, and also when sleeping. He only turned up the heat later after I got sick. It was warmer to leave and get on the bus or go to the shopping mall.
Food is cheaper there, and of course there is a great variety of authentic Chinese food available. But if you decide to visit one of the new Western chains such as Pizza Hut, KFC, McDonald's, or Burger King the prices are the same as what you'll find in the U.S. (The same goes for any other imported brands of clothing or electronics.) But the menus are very different, and more like restaurants rather than fast food joints. You will find yourself waiting for a table at Pizza Hut, and the menu is Chinese-flavored at all of these places. I did really like the food at Ajisen Ramen though.
Coca-Cola and Pepsi have a strange sort of competition going on though, with Coca-Cola clearly spending much more on advertising. Both of them have created "teams" of celebrities to promote their brand, and you can find their faces pasted all over the place individually or as a team with their respective company brand in the background.
While I was there, Luna and I visited the TV broadcast tower, which is the 3rd tallest tower in the world or something like that. We also went to the museum which was featuring the paintings of many renaissance artists, but Luna wasn't interested in seeing any paintings. Plus the line was really long. Instead we looked at the gemstones, which she really liked. Shanghai also has a really cool aquarium with lots of different types of fish and other ocean and river life. The introductory exhibits are not that exciting, but later on you go down deep into a really long underwater tunnel so you can see all sorts of animals up close.
One thing that I did get a chance to do was visit a HiVi store and listen to a pair of Swans 2.2. These are amazing speakers featuring ribbon arrays for the tweeter and midrange, and four woofers. What I heard was excellent. Unfortunately, no one in Shanghai knows how to sell speakers. The room was acoustically horrible, and the salesmen did not know what they were doing (the DVD player and integrated amp were not configured correctly). The salesmen didn't even turn off the nearby television or close the doors into the rest of the mall. The room was glass walls and a hard floor, although there was a suspended ceiling. The speakers are rear-ported, but were placed way too close to the wall.
Posted by josuah at 4:25 AM UTC+00:00 | Comments (0) | TrackBack
April 29, 2005
Las Vegas
Saturday through Tuesday I took a vacation with Szu-Huey to Las Vegas. We stayed the first night at a Super 8. The next two nights we stayed at Harrahs for only $40 because we went to a time-share presentation by Fairfield Resorts. They gave us $20 and free buffet tickets for spending three hours listening to their sales pitch.
We didn't do much on Saturday except walk around. Szu-Huey played some Roulette and won $1 from betting $20. She was super happy for the rest of the day. Sunday we checked out of Super 8 and into Harrahs but had to leave our bags in the baggage check because they had no rooms available in the morning. We ate at the Rio seafood buffet. It was super-expensive but Szu-Huey's favorite buffet there.
Szu-Huey wanted to keep playing Roulette but lost so I convinced her to play Blackjack because the odds are not against you in that game. On Sunday I won $20 from $30, and on Monday I won $40 from $60. Tuesday before leaving for the airport, we played again and actually more than doubled $60, but instead of stopping we kept playing and ended up losing everything.
On Sunday we saw Mystére at Treasure Island. It was a very funny and entertaining show. We had excellent seats in the very front row, center section. After the show we ate at their buffet but Szu-Huey didn't like it as much. It wasn't as much as the Rio buffet but not as cheap as some other buffets.
Monday we saw the Bellagio water show, the Mirage volcano, and the Treasure Island Sirens of TI show. We ate at the Harrah's buffet with the free tickets we got from Fairfield Resorts. After that, we got on the strip trolley trying to get to the Stratosphere to see Bite but the trolley was going the wrong way. So we had to hop off and get a taxi to get there on time. I liked Bite, and they had some interesting plot twists and a really good acrobatics show. Szu-Huey was scared a few times though.
Posted by josuah at 2:18 AM UTC+00:00 | Comments (0) | TrackBack