June 18, 2008
Gunsmith Cats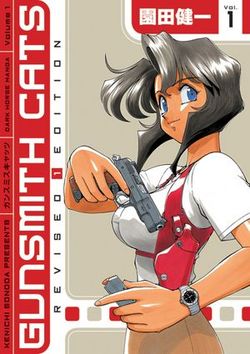 Gunsmith Cats is a really fun read full of excitement and great characters. They're not really deep characters, but they've got a lot of personality and the interaction and relationships between them is excellent. This extends to the bad guys in the story as well.
I've blown through the original manga series, and started the sequel Gunsmith Cats Burst. Unfortunately the last volume of Burst isn't published in the U.S. yet, and so I'm left of a bit of a cliff-hanger. I'm really looking forward to the release of the last Burst volume.
I would guess the most distinctive feature of this manga is the attention to detail when it comes to firearms. Apparently Kenichi Sonada is a big gun fan, and so he does a lot of research into them and that carries over directly into the manga. Plus, he is very careful in his drawing and consistency, which I always appreciate since it gives a manga real polish. It's much more pleasant to read something that is fully consistent and view panels where you can see what is going on (even during heavy action) and flow together. A lot of mangaka fail at this, even the popular ones.
But what really keeps me going and not wanting to put down the book are the characters and plot. The story is long-running and fully fleshed out, and I can read these stories again and again and still enjoy them just as much as the first time. I'd have to say Gunsmith Cats is one of my favorite mangas.
Posted by josuah at June 18, 2008 8:23 AM UTC+00:00
Trackback Pings
TrackBack URL for this entry:
http://www.wesman.net/cgi-bin/mt/mt-tb.cgi/1489