September 9, 2007
Tintin & Bottle Rocket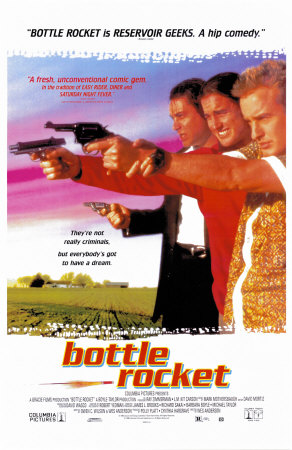 Tintin came over yesterday evening to play a game of Settlers of Catan. We played the basic version, just Tintin, Luna, and me. Tintin didn't pick very good starting locations, which ended up making it very difficult for her to do well. Luna got really lucky with a bunch of rolled elevens and ended up winning by a pretty good margin.
As it happens, Tintin's movie also arrived yesterday and so we ended up watching it after the game. She got Bottle Rocket, a Wes Anderson film starring Owen and Luke Wilson as a couple of reckless friends who don't really know what to do with themselves and end up holding up a bookstore. This is followed by escaping to a motel where the maid becomes a love interest, and then returning to try and pull off one more heist that couldn't have gone more wrong.
If you're familiar with Wes Anderson's quirky sense of humor and movie style, and you like it, then you'll probably like Bottle Rocket. If his movies don't really appeal to you, then it's more of a 50/50 chance as to whether or not you'll think this movie is something special. This was his directorial debut, as well as the acting debut of the two Wilson brothers.
Posted by josuah at September 9, 2007 10:39 PM UTC+00:00
Trackback Pings
TrackBack URL for this entry:
http://www.wesman.net/cgi-bin/mt/mt-tb.cgi/1276