September 30, 2007
The Legend of Zelda: Four Swords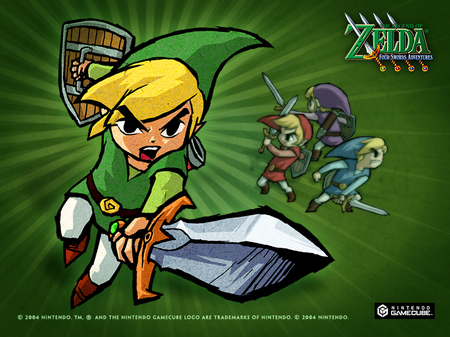 I started playing The Legend of Zelda: Four Swords a long time ago, with Shannon. In fact, I pretty much bought it because it can be multi-player and I wanted to play it with Shannon and Yvonne. But we haven't seen much of each other in a while so I decided I might as well finish it up. While this Zelda is really good, it is just more fun to play with other people because that's how it was designed. Plus, you can only play the Tingle mini-games with more than one player.
This version of Zelda is much closer to the types you find on the Game Body platform, instead of the recent console platforms. Partially because it makes use of the Game Boy Advance screen to provide different views for each player. It's very similar in look and feel to The Legend of Zelda: A Link to the Past from the Super Nintendo, but with updated gameplay and nicer graphics technology. Being able to control four Links, either on your own or with other people, lends itself to new and interesting puzzles that require cooperation or can be done more quickly or easily with friends at hand.
Nintendo really did something cool, with GBA multiplayer games. It's an expensive hardware investment, but it does make for some really fun and engaging play with friends.
Posted by josuah at September 30, 2007 10:04 PM UTC+00:00
Trackback Pings
TrackBack URL for this entry:
http://www.wesman.net/cgi-bin/mt/mt-tb.cgi/1335