October 28, 2007
Nurse Betty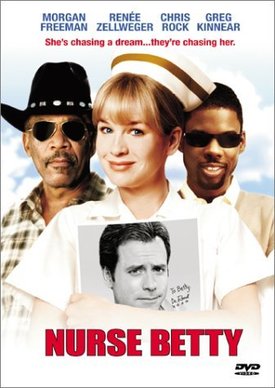 Nurse Betty isn't the kind of movie I'd pay to see in a theater (not that I'd really pay to see things in the theater) or spend money on in general, but another Hollywood Video was closing and it was only $2.50. I knew enough about the movie to think it would be funny, especially since Renée Zellweger is such a good actress. And I figured it would be the type of movie Luna would like, because it would be a little whimsical sort of dark comedy.
Well, Renée Zellweger did a great job acting in this film. She came across as a totally believable and clueless woman in search of her true (imaginary) love. It really helps to approach this film without knowing anything about the story or what to expect, because it takes interesting little turns liberally sprinkled with doses of comedic gold. Luna and I both laughed out loud many times during the movie.
I could see myself watching this movie again, next time I want to see something funny or someone asks to watch something funny. We don't have many comedies on our shelf, and this is one of the better ones you could choose to have in your collection.
Posted by josuah at October 28, 2007 5:12 PM UTC+00:00
Trackback Pings
TrackBack URL for this entry:
http://www.wesman.net/cgi-bin/mt/mt-tb.cgi/1362