October 18, 2007
The Dark Crystal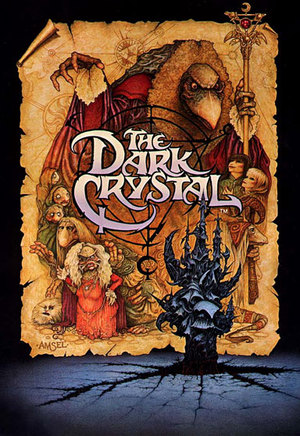 Samir's mentioned The Dark Crystal several times as a great fantasy adventure movie. It was released in 1982 and created by Jim Henson and Frank Oz, perhaps the most famous of all puppeteers, as an unprecedented collaborative work. It tells the story about the crystal, which cracked 1000 years ago, plunging the land into chaos. The Gelfling Jen must go on a journey to return the shard to the crystal before the three suns are in convergence, or the land will forever remain in darkness.
The thing that struck me right away is the way the puppets do not move like puppets, much, and the shots (some of which involve blue-screening) do not hide parts of the puppets. Normally the bottom half of the puppets are hidden if they are being manipulated by stiff wires from below, or there are strings from above that make them move in a floppy manner. Even the facial movements seem to be like that of claymation, although not as expressive as it would have been if that was true.
The Dark Crystal is a great fantasy tale, but it's very simple as well. The simplicity and lack of real story development is what disappointed me. This would be a great film for children under the age of ten, but if you're looking for a fantasy story that is really engaging and challenges the mental processes of the protagonist and the viewer, you might want to look elsewhere.
Posted by josuah at October 18, 2007 4:23 AM UTC+00:00
Trackback Pings
TrackBack URL for this entry:
http://www.wesman.net/cgi-bin/mt/mt-tb.cgi/1353