October 9, 2007
Vandread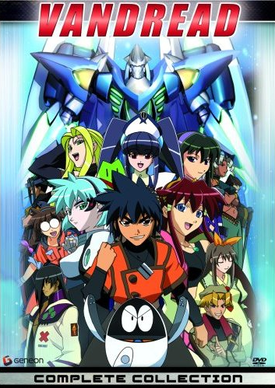 Vandread is a two season anime series (the second season is called The Second Stage) of 13 episodes each. Despite being two seasons, the plot takes places across the two evenly, so it's really like one season of 26 episodes. The initial premise is very amusing: a world of men at war with a world of women. Each side has no realistic concept of the other sex, and reproduces artificially. In fact, men are indoctrinated to see women as barbaric ugly monsters that will eat their insides, and women to see men as disgusting egotistical creatures. When they are forced to meet, because some female pirates captured a male battleship, they don't even want to touch each other.
That initial conflict begins a very interesting and fun tale of gender exploration and adventure, with a healthy dose of symbolism. Over time, the three male characters and several primary female characters learn to live together, understand each other on an individual level (losing stereotypes and conquering their conditioned fear), and also to complement each other. The symbolism exposes itself through the ways by which the cast finds their lives better and their abilities strengthened when the men and women come together to overcome their problems.
Some of the best parts of the series are the space battles. This is exciting and fast-paced space combat with hundreds of ships on the screen at the time. They really went all out to make it look great both visually and mechanically. I was very glad to see the CG work here does not look sterile; the cel shading is well done. Each battle introduces new twists and challenges, as their enemy adopts new attack vectors. The final battle is immense and really brings things to a climax. I also liked the a number of the regularly repeated melodies. They fit well and helped form the mood and emotions of the scenes.
The only thing I didn't like so much was the regular monologuing of Hibiki, the main male character, about proving his existence. It's a nice idea and one that is central to the thought processes of this series, but I'd rather not get hit over the head with it. Especially since it doesn't make a whole lot of sense to be wasting time over that when looking down the barrel of a laser.
Posted by josuah at October 9, 2007 7:32 AM UTC+00:00
Trackback Pings
TrackBack URL for this entry:
http://www.wesman.net/cgi-bin/mt/mt-tb.cgi/1342