December 30, 2007
Buffy the Vampire Slayer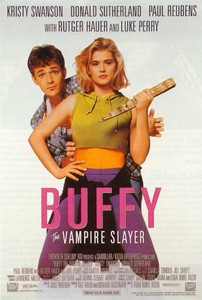 Luna rented the original Buffy the Vampire Slayer movie because she's been watching through the entire new TV series and really likes it. I guess she wanted to see where it all started. I remember reading this book after getting it through one of the school's book orders.
I was actually surprised to see so many actors in the film that have either become famous or at least had serious careers. It's also a little different than I remembered, with more parody and self-deprecating humor; I remembered a lot of fighting in the book which I guess was an adaptation of the movie. It also surprised me to learn that Joss Whedon also wrote and directed the movie. He's a very highly regarded person in the television industry and by the general public, and I don't remember Buffy the Vampire Slayer having been considered a critical success.
Anyway, the movie wasn't anything special but I found it entertaining at times. Pretty short and straight forward. I can't find any faults in the film, but I think it's standard television movie fare.
Posted by josuah at December 30, 2007 11:05 PM UTC+00:00
Trackback Pings
TrackBack URL for this entry:
http://www.wesman.net/cgi-bin/mt/mt-tb.cgi/1411