December 28, 2007
Home from Christmas
Luna and I just got back from spending Christmas at my parents house in New York. We were there for four days, not including the two days spent flying. Dennis and Iris were there until the 24th, after which they went to Iris' parents' place. Calvin took the same flights that we did.
Luna was really excited to see so much snow, and the first day she wanted to go outside and play in it. But it was raining at that time and she hadn't packed the right clothing for us. In fact, she only packed me one pair of pants and the wrong shirts, so I ended up having to go buy some pants and wash the clothes often. Luna also bought some boots and a bag while we were out. We never got around to actually playing in the snow afterwards.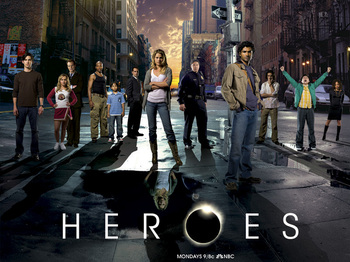 And I actually spent two days just watching season one of Heroes on my mom's laptop. Luna watched season one just before we flew out, without me. Heroes has excellent characters and a great plot. That's really what's so good about the show. There is a pretty large cast of people, some with super powers and some without, who find themselves bound together through taut strings of destiny to save the world. As things are revealed and you try to piece together the puzzle of motivations and challenges, so are they doing the same thing.
Unfortunately, while there's a really strong cast and excellent plot, the execution itself is plagued with sloppiness. That's a real turn off for me, and Luna didn't like it either after I started pointing them out to her. There are scenes that show up in one episode, and then you see them again in the following episode but the dialog, action, and even the set have changed. Part of me thinks this must have become a deliberate choice, if it didn't already start out that way. There's even one character who shows up and then mysteriously disappears without explanation. And some Ando-paradoxes are never answered.
Still, it's a great show and I can understand why people really like it. There's a whole lot of inside jokes and little gestures as well, such as George Takei's license plate or Stan Lee's cameo. I did appreciate those, although I suspect the vast majority of viewers didn't even notice.
Christmas day Luna and I spent sleeping. She wanted to wake up early to get presents, but then after that we both went back to sleep and ended up spending a lot of the night actually awake instead of sleeping. I got a new pair of sneakers which I really needed because mine are so old; I was actually looking at some when we went out earlier to buy the pants, but ended up not buying any. I also got socks and some money. Luna got a coat and a pair of warm socks. Calvin got me Transmission and Luna a scarf. Dennis and Iris gave us Genki Hats of Luna and Artemis.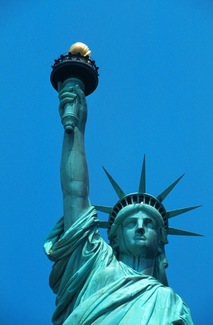 The day after Christmas Luna and I took Amtrak to New York City. She wanted to see the Statue of Liberty and ground zero. The train ride was about 2.5 hours each direction, and was convenient because once in the city we could just take the subway and walk. Unfortunately the actual Statue of Liberty ferries and stops took four whole hours to do. We had to wait in line for a long time to get onto the ferry, which has airport-like security screening, and then again on the way to Ellis Island and back to Manhattan. We couldn't get into the Statue of Liberty itself though because all of the time passes had been given out; you need to reserve well in advance it seems. So other than some quick pictures it wasn't very fruitful. It's also a lot smaller than I thought it would be. The tickets are sold out of Castle Clinton though, and the whole thing brought back memories of Deus Ex.
Afterwards we went to ground zero but didn't enter the special memorial thing they have set up while construction is going on. Luna just snapped some quick pictures through holes in the fence they set up around the hole. When we saw some local cemeteries she thought the people that died there had been buried right there, but of course those are just regular cemeteries next to churches.
Dinner was at Roxy's Delicatessen which is pricey but nice. I probably wouldn't go back again though. Service was a little slow and I saw one of the wrapped muffins fall on the floor and then get put back onto the shelf (it was wrapped, so not really a big deal, but still feels weird). We walked around Times Square for a long time, visiting places like the M&M store and Hershey store until it was time for our train back.
It's the flight back to San Jose that was really annoying. Our plane at Albany arrived late, so there was no airplane for us to take to Detroit even though we could have left if a plane and crew had been available. As a result, we missed our connection in Detroit and ended up taking a later flight to Minneapolis/St. Paul on standby. And since we were late arriving there, our flight to San Jose had already left and we would have to stay overnight if we wanted to catch the next one. Instead, we got on standby for a flight to San Francisco, and arrived at SFO around 12:30am without any of our luggage. We had to wait a long time for a shuttle that would take us to where Luna and I parked at SJC, and finally arrived home at 3am. Northwest needs to find our luggage and somehow get it back to California to deliver to our home.
Posted by josuah at December 28, 2007 11:31 AM UTC+00:00
Trackback Pings
TrackBack URL for this entry:
http://www.wesman.net/cgi-bin/mt/mt-tb.cgi/1408