March 16, 2021
Goodbye Nami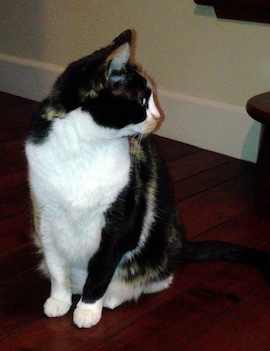 Nami died yesterday, sometime in the morning. I wasn't there because she was with my mom in New York. She was born sometime in 2007, so she was about 14 years old.
Luna named her Nami after the character in One Piece, because of her color as a calico and because her personality matched. She had been sickly when we got her, and always kind of separate from the other cats and me. Maybe she wasn't treated as nicely by humans or some other situation that affected her before we adopted her.
My strongest memory of her is her sitting on a particular cardboard box in the corner of my office while playing video games, in our current home. I'll always remember her watching me from there, or sleeping there. Usually with Kiba nearby or maybe on my lap. Nami didn't really like to do anything in particular, and wasn't very needy. Mostly I think she just liked to be kept safe and comfortable.
My mom messaged me on the 14th to tell me that she thought Nami had died. But it turns out she was extremely weak and stopped moving while on my mom's lap. She got up and crawled into a blanket to rest. Apparently she had suddenly gotten weak and tired. I don't know what happened, or what kind of illness she had, but I guess she had probably been sick and growing weaker for a while, only for things to suddenly become much worse.
When my mom tried to take her to the doctor the next day, she died in the parking lot. I wish I hadn't lost so much time with her.
Posted by josuah at 1:30 PM UTC+00:00
Trackback Pings
TrackBack URL for this entry:
http://www.wesman.net/cgi-bin/mt/mt-tb.cgi/1624