December 18, 2007
Tank Girl: The Gifting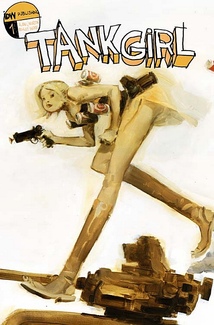 Tank Girl makes her return after a long haitus with Tank Girl: The Gifting from IDW Publishing. This compilation of short stories is a departure from the more traditional visual narrative of the earlier comics. Many of the stories contain only a handful of words and a few pages of illustration; some are simple ditties that speak with the Tank Girl attitude. But the overall personality of Tank Girl, Booga, and their compatriots in mischief is the same, and no doubt welcome by Tank Girl aficionados who are a little older and mature these days.
The Gifting was not illustrated by Jamie Hewitt, but instead by Ashley Wood who has created a look of rough lines and watercolor. It's certainly a more visually interesting and freeform approach, but I did find it a little dry because of the earthy, washed-out color scheme. And I didn't enjoy the plotless or very short skits as much.
Still, Tank Girl is back. She's a little more grown up but just as much an irresponsible and reckless misfit as ever, even if she no longer lives in a shack in the Outback. I believe she's going to be returning in some future volumes which I plan to pick up, in large part just because I've started the collection.
Posted by josuah at December 18, 2007 4:07 AM UTC+00:00
Trackback Pings
TrackBack URL for this entry:
http://www.wesman.net/cgi-bin/mt/mt-tb.cgi/1399