December 19, 2007
You're Under Arrest!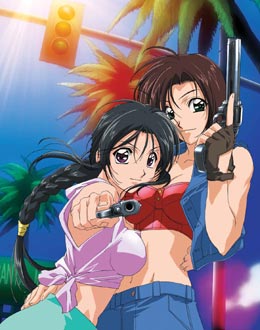 You're Under Arrest! is an OVA of the manga of the same name written by Kosuke Fujishima. The two main characters are Miyuki and Natsumi, who are partners in the traffic division of Bokuto Police Station. They meet for the first time in the first episode and become quick friends and close partners. There are a number of supporting characters, including the love interests of both Miyuki and Natsumi. Every character has a very distinct personality which all together work very well. I particularly like the character of Natsumi. She's super strong, aggressive, and rough-and-tumble. Miyuki is the quiet intelligent one, with a not-so-secret love of machines and guns.
I would describe the series as a really good Saturday-morning cartoon. Each episode is pretty standalone with a few stories spanning two episodes. Of course there's a real progression of character development and plot over the entire series, unlike U.S. cartoons which are never intended to end or change. It's suitable for very young children as well as adults. In fact, I'd say young children and teens are the prime audience. I found Bokuto's police force very inspirational and I can imagine children wanting to grow up to become policemen and policewomen (there's even a girl that does that in the show).
I enjoyed You're Under Arrest! because of the characters, decent stories, and overall fun attitude with a nice splash of action. There aren't any annoying issues like reused cels or evident budget problems. Very solid production, but not particularly remarkable.
Posted by josuah at December 19, 2007 4:38 AM UTC+00:00
Trackback Pings
TrackBack URL for this entry:
http://www.wesman.net/cgi-bin/mt/mt-tb.cgi/1400