February 14, 2008
Strangers in Paradise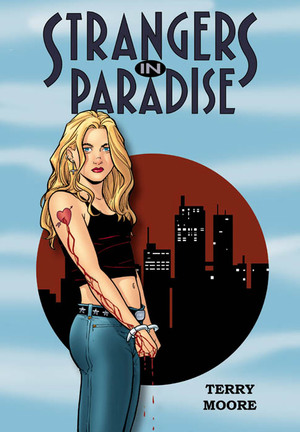 Strangers in Paradise, by Terry Moore, is a masterpiece. Every once in a while there comes a book that has everything and holds you so tight you forget to breathe and savor each page while being unable to turn to the next one. This is one of them.
I think there are some stories that can only be told right with pictures, and Strangers in Paradise really exploits the graphic medium to its fullest. You can't describe in words the smirk on someone's face or the burning in someone's eyes. Those simple words don't convey the whole and any attempt to describe it in words is like looking at a beautiful painting an inch at a time. You can only see those things by absorbing it all at once. In any other form, Strangers in Paradise would be just a pale rendering.
Moore's sense of composition and attention to emotional detail in each frame is perfect. It all comes together without once placing you in an uncomfortable visual flow or inability to fully understand the frame, the page, and the story. I'd love to read it in full color, but the black and white pocket books are really good anyway.
Katchoo, Francine, David, and their friends and enemies are wonderful. When you follow a person through good and bad, the rough spots and with all their emotions and thoughts fully exposed, you can't help by fall in love with them. They become part of you. Katchoo and Francine are soul mates in the real sense of the word. That doesn't mean they always get along and live in a perfect world. It means no matter what they're together and each carrying a part of the other even when they're apart, and that will never change.
There's all the stuff that makes life interesting, fun, exciting, and an adventure. Plus a whole other global conspiracy and criminal element that has them trapped and prevents them from being able to control their own lives. Those external events that you try to hide from the ones you love to protect them, or save them, when that means hurting them and sacrificing yourself or other people. Those sorts of hard but real-life decisions that many people face and struggle to overcome.
This is a story I'm going to read again. And I'm going to enjoy it just as much that time, and the time after.
Posted by josuah at February 14, 2008 5:00 PM UTC+00:00
Trackback Pings
TrackBack URL for this entry:
http://www.wesman.net/cgi-bin/mt/mt-tb.cgi/1426