February 17, 2008
The Holiday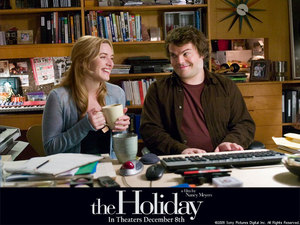 When Luna first saw the trailer for The Holiday she laughed and then punched me in the face. Cameron Diaz's character had found out her boyfriend slept with his secretary and walked out the front door and punched him twice. I don't think Luna put it on her queue right away, but we saw the trailer again and that's probably when she did.
There's really nothing special about The Holiday in terms of plot, but it does have some very good actors and a little gimmick which thankfully isn't overused. Amanda (Cameron Diaz) happens to be a movie trailer director/editor/something and every once in a while imagines hearing voiceovers describing the drama in her life. That's the gimmick, and it's used a few times. Otherwise, it's your typical people in bad relationship find other people and everything works out in the end. Simple, straightforward, and it'll be the characters that make you like the movie or not.
I did kind of like Miles (Jack Black) because his view on the world is a little kooky. He sees a theatrical score in just about everything and that's a fun and cool way of seeing things. He's a composer in the movie, of course.
Posted by josuah at February 17, 2008 9:25 PM UTC+00:00
Trackback Pings
TrackBack URL for this entry:
http://www.wesman.net/cgi-bin/mt/mt-tb.cgi/1427